Baker Ranch Dental Spa
Dental Implants
Monday - Friday
9:00am - 6:00pm
Sat 9:00am - 3:00pm
Single Tooth Implant
Single-tooth implants can be utilized in people that are missing out on one or more teeth. The single tooth dental implant is positioned by surgery in the top or reduced jaw, where it replaces your missing tooth's root(s).
A solitary tooth dental implant does not call for the grinding down and the crowning of the adjacent all-natural teeth. The single tooth dental implant is placed in the location of the missing out on tooth. It essentially changes the all-natural tooth root. A crown is built on top of the oral implant, and none of the other teeth are affected. The bone in the location of the missing tooth is maintained and also does not decline. This is specifically vital if the missing tooth is located in the "aesthetic area", or smile line. The single tooth implant functions just like a natural tooth and does not decay.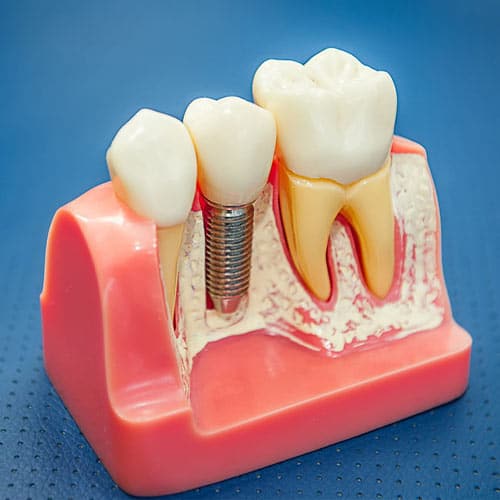 Implant Bridges
An implant-supported bridge resembles a regular oral bridge. It is sustained by implants as well as not by all-natural teeth. In many cases, when an implant-supported bridge is used, one dental implant is positioned in the jawbone for each missing out on tooth. After that, the crowns are connected to each other to form one piece.
Implant-supported bridges and dentures also are much more secure and steady than traditional dentures. They allow you to preserve more natural biting and also eating capability. Your bone is a lot far better shielded because implant-supported bridges will replace a few of your missing out on tooth roots. With traditional dentures, the bone that formerly surrounded the tooth origin may start to deteriorate. Oral implants incorporate with your jawbone, aiding to keep the bone healthy and balanced.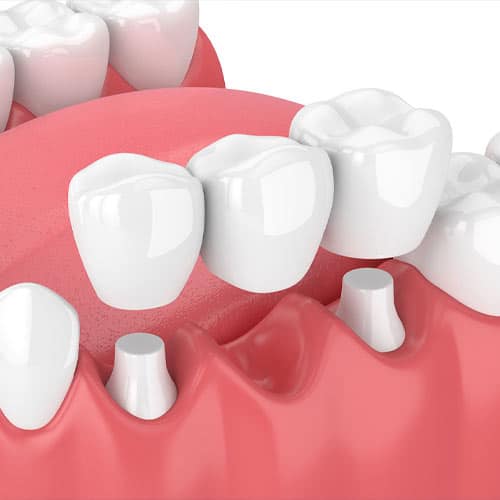 All on 4 Implants
All-on-4 dental implants can support an entire arch of teeth making use of only 4 implants. This can be utilized on either the top or reduced jaw. It also immediately changes missing out on teeth which look and feel comparable to your all-natural teeth.
The dental implant treatment All-on-4 Oral Implants integrates the advantages of both dentures oral implants into one replacement method.
The All-on-4 secured denture treatment makes use of four dental implants. It is used to affix each personalized full-arch denture to the top and/or reduced jaw. The titanium implants are anchored to the bone, and will ultimately fuse to the bone itself via a procedure called osseointegration. There, they can inevitably become a permanent part of your mouth like all-natural teeth origins. Considering that the implants can commonly maximize existing bone, there is typically no need for a bone graft. Full collections of dentures are anchored to the 4 implants, which provide much more security without the requirement for a separate dental implant.
Implant Supported Dentures
Implant dentures are a type of oral appliance that is affixed to the top arc, lower arc, or both to replace missing teeth. The denture is protected by 4 to 6 dental implants. It allows to attain snug fit without the requirement for pastes, gels, or various other messy adhesives.
An implant-supported denture is utilized when an individual does not have any kind of teeth in the jaw, yet has enough bone in the jaw to sustain implants. An implant-supported denture has unique attachments that snap onto attachments on the implants.
There are two types of implant-supported dentures:
Bar-retained dentures: A thin metal bar that follows the curve of your jaw is attached to two to five implants that have been placed in your jawbone. Clips or other types of attachments are fitted to the bar or denture. The denture fits over the bar and is securely clipped into place by the attachments.
Ball-retained dentures: Each implant in the jawbone holds a metal attachment that fits into another attachment on the denture. In most cases, the attachments on the implants are ball-shaped, and they fit into sockets on the denture.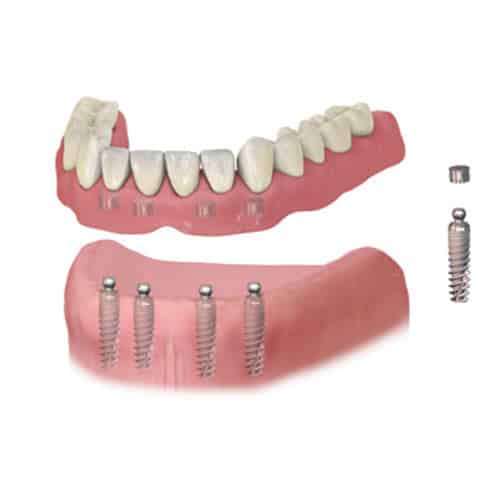 Discover
Dental care for the entire family.
We invest in new technologies to make sure you're getting the best that dentistry has to offer.