Baker Ranch Dental Spa
Dental Implants Lake Forest, CA
Monday - Friday
9:00am - 6:00pm
Sat 9:00am - 3:00pm
Single Tooth Implant Lake Forest, CA
Single-tooth implants can be utilized in people that are missing out on one or more teeth. The single tooth dental implant is positioned by surgery in the top or reduced jaw, where it replaces your missing tooth's root(s).
A solitary tooth dental implant does not call for the grinding down and the crowning of the adjacent all-natural teeth. The single tooth dental implant is placed in the location of the missing out tooth. It essentially changes the all-natural tooth root. A crown is built on top of the oral implant, and none of the other teeth are affected. The bone in the location of the missing tooth is maintained and also does not decline. This is specifically vital if the missing tooth is located in the "aesthetic area", or smile line. The single-tooth implant functions just like a natural tooth and does not decay.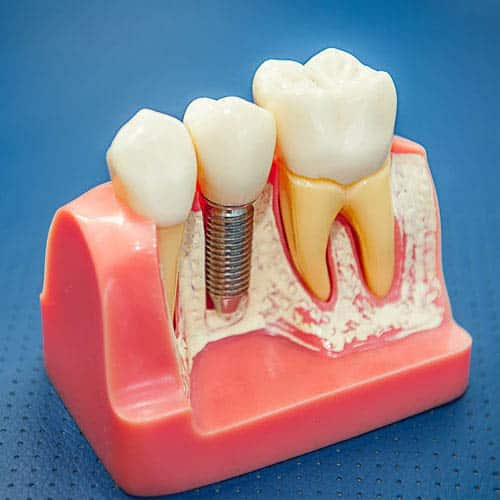 Implant Bridges Lake Forest, CA
An implant-supported bridge resembles a regular oral bridge. It is sustained by implants as well as not by all-natural teeth. In many cases, when an implant-supported bridge is used, one dental implant is positioned in the jawbone for each missing out tooth. After that, the crowns are connected to each other to form one piece.
Implant-supported bridges and dentures also are much more secure and steady than traditional dentures. They allow you to preserve more natural biting and also eating capability. Your bone is a lot far better shielded because implant-supported bridges will replace a few of your missing out on tooth roots. With traditional dentures, the bone that formerly surrounded the tooth origin may start to deteriorate. Oral implants incorporate with your jawbone, aiding to keep the bone healthy and balanced.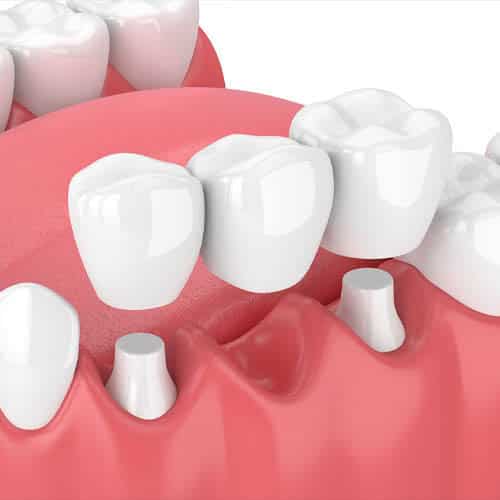 All on 4 Implants Lake Forest, CA
All-on-4 dental implants can support an entire arch of teeth making use of only 4 implants. This can be utilized on either the top or reduced jaw. It also immediately changes missing out on teeth which look and feel comparable to your all-natural teeth.
The dental implant treatment All-on-4 Oral Implants integrates the advantages of both dentures oral implants into one replacement method.
The All-on-4 secured denture treatment makes use of four dental implants. It is used to affix each personalized full-arch denture to the top and/or reduced jaw. The titanium implants are anchored to the bone, and will ultimately fuse to the bone itself via a procedure called osseointegration. There, they can inevitably become a permanent part of your mouth like all-natural teeth origins. Considering that the implants can commonly maximize existing bone, there is typically no need for a bone graft. Full collections of dentures are anchored to the 4 implants, which provide much more security without the requirement for a separate dental implant.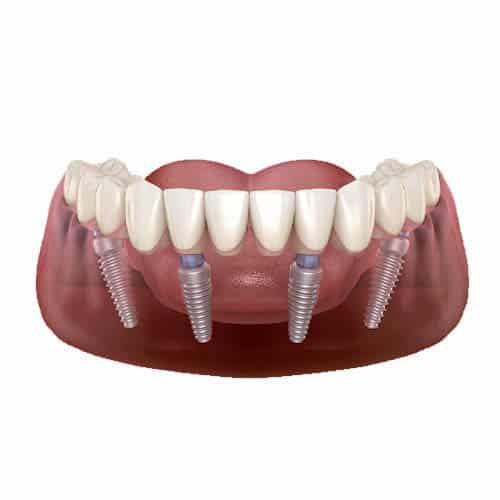 Implant Supported Dentures Lake Forest, CA
Implant dentures are a type of oral appliance that is affixed to the top arc, lower arc, or both to replace missing teeth. The denture is protected by 4 to 6 dental implants. It allows to attain snug fit without the requirement for pastes, gels, or various other messy adhesives.
An implant-supported denture is utilized when an individual does not have any kind of teeth in the jaw, yet has enough bone in the jaw to sustain implants. An implant-supported denture has unique attachments that snap onto attachments on the implants.
There are two types of implant-supported dentures:
Bar-retained dentures: A thin metal bar that follows the curve of your jaw is attached to two to five implants that have been placed in your jawbone. Clips or other types of attachments are fitted to the bar or denture. The denture fits over the bar and is securely clipped into place by the attachments.
Ball-retained dentures: Each implant in the jawbone holds a metal attachment that fits into another attachment on the denture. In most cases, the attachments on the implants are ball-shaped, and they fit into sockets on the denture.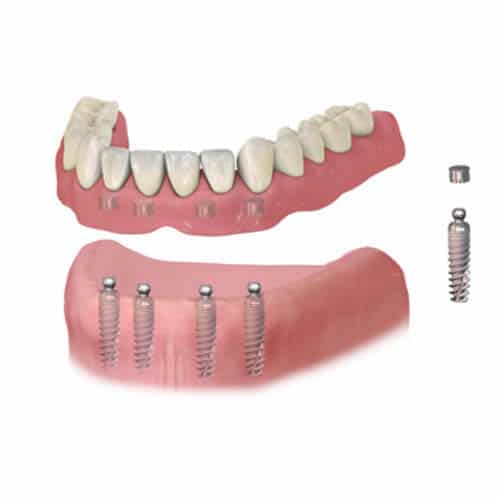 "I recently visited Dr. Ramin for my recent oral surgery for extractions and implants. I was so nervous about my procedure, but Dr. Ramin and his entire staff were so comforting. They explained the procedure and took their time to ensure that my needs are met. From the call to make my appointment to the moment I stepped into the chair, I have never felt so cared for by a dental staff ever. Thank you Dr. Ramin, I love my New Teeth Now!"

"I couldn't be happier with my results. After years of dentists, procedures and pain with less than desirable results I heard about the best implant dentist in lake forest ca, Dr Ramin was the answer for me. From the initial consultation through the procedure and follow-up visits the whole staff was professional, courteous, and caring. I couldn't have been in better hands than with Dr Ramin. Thank you for my smile!"

"It is my pleasure to write this review. I am a person that has to research everything. I did just that when choosing the very best for my teeth. The care I received is hands down the best in the country. My health, appearance, and confidence have been restored, not just my teeth. My sincere gratitude is overflowing. THANK YOU! Please make the call and change your life. It will be the best decision you ever make. A HUGE THANK YOU again!
Dental Implants
Frequently Asked Questions
What are dental implants?

A dental implant by itself is not a tooth! A dental implant is a prosthesis used to replace missing teeth. Essentially, it is a small titanium post/fixture that is inserted into the jawbone, on top of which a single crown (cap), a fixed bridge, a partial denture, or full denture can be attached. Therefore, there are 3 parts to an "implant tooth": the dental implant itself, the abutment, and the artificial tooth.

Who is a good candidate for dental implants?

Almost anyone who is missing a single tooth, multiple teeth, or all teeth are candidates for dental implants. Talk to your prosthodontist for your specific needs.

What are the advantages of dental implants?

When a single permanent tooth or multiple teeth are lost due to dental decay or gum disease, dental implants can now replace them. Dental implants can last a lifetime and can improve your appearance, your confidence, and your ability to eat the foods you like, and participate in an active lifestyle, without worrying about your teeth. Dental implants are made of titanium and can never get dental decay!

How many visits does it take for a dental implant?

The Dental Implant process is basically a three phase process, which can be different for each person. Typically the entire process takes from 5 to 8 months. As you will see, this is a little different for people getting full mouth dentures. The process can be faster for those getting a whole new set of teeth!

How long after dental implants can I eat normally?

About an hour after surgery, you may remove the gauze sponges that have been placed in your mouth and have something to eat. Be sure to eat foods that are soft for the first 24 hours after surgery. Avoid hot foods and drinks for several hours after surgery. Also do not drink from a straw for at least 24 hours.

How much do implants cost and does insurance cover the cost?

In general, the cost of replacing a single tooth with a dental implant is almost the same as replacing it with a regular fixed bridge. Dental implant treatment may qualify for some insurance coverage, but situations vary. The cost will vary by patient needs, bone quantity, and region. Dr Ramin will make an assessment based on your unique needs.

What is the success rate of dental implants?

It varies from individual to individual and with health and habits. For a healthy individual with good oral hygiene and good health, dental implants are predictably successful with reported success rates above 90-95 percent.

Do dental implants last?

Unlike natural teeth, dental implants are not susceptible to dental disease such as decay; however, the health of the gums is vital to maintaining lasting implant success.

What is All-on-4®?

All-on-4® is a trademarked treatment procedure that essentially involves replacement of all missing teeth in one jaw by using only 4 implants. This procedure is especially beneficial in patients who have lost a lot of bone in the back areas of the mouth.

How painful is getting a dental implant?

With numbed nerves, you can expect not to feel any pain during your dental implant procedure. You may feel pressure at times, but it should not cause you discomfort. For patients who have anxiety with dental procedures, oral sedation is available.

Do dental implants feel real?

Because a dental implant is replacing a missing tooth, you don't have any feeling in the implant itself. Any feeling you have comes from the surrounding gum tissue. That means that the implant doesn't feel exactly like your natural tooth.